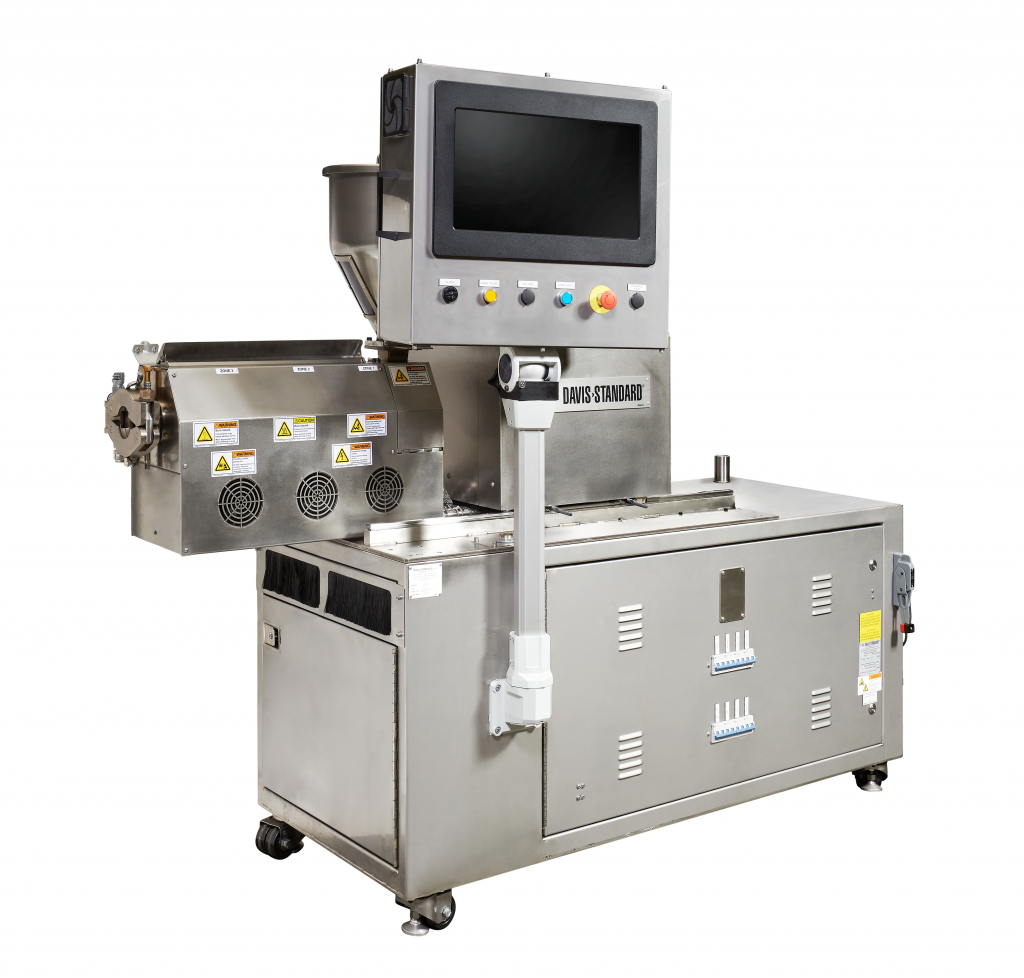 Davis-Standard, LLC will exhibit production of two-lumen "Double D" thermoplastic elastomer (TPE) catheter tubing at booth 4024 during MD&M West in Anaheim, Calif., April 12-14, 2022. The line will also demonstrate 1.75mm filament made of polylactic acid (PLA) biopolymer, which will be used in a 3-D printer operating at the booth. Davis-Standard will exhibit the line's capabilities in conjunction with technology partners Conair Group and Zumbach Electronics.
"This line is an excellent example of a space-saving system that can be used for both medical and industrial tubing. We also have numerous larger scale lines like this one in the field, capable of running in excess of 800 feet per minute," said Kevin Dipollino, Davis-Standard's Senior Product Manager of Pipe, Profile and Tubing Systems.
The line features a Davis-Standard 1-inch MEDD Series (Medical Extruder Direct Drive) extruder. The extruder's key features include interchangeable barrel assemblies and replaceable feed-section liners for multiple materials and applications. Easy-to-clean stainless-steel surfaces, a direct drive motor, simplified maintenance, and operator accessibility are other key advantages for medical cleanroom environments.
The MEDD extruder will be equipped with a DS-eVUE process control featuring a 19-inch (480mm) high-resolution touch-screen. This Windows®-based controller is designed for mid-range processes with advanced supervisory functions such as event logging, customized reports, SQC, historical trending, troubleshooting and pressure set-up. Operators benefit from a complete line overview, detailed extruder data, recipe creation and storage, and multi-level security to protect settings and accessibility. DS-eVUE can interface with the majority of existing PLC controls and includes Davis-Standard's ReACT (Remote Access Technology) support program for real-time, remote service and troubleshooting.
On Tuesday and Wednesday, April 12 and 13, the line will exhibit processing of PLA. The melt from the extruder will pass through a cross-head filament extrusion die and a non-contact calibrator into the Conair HTMP multi-pass vacuum sizing/cooling tank. This tank is a space-saving innovation that enables the extrudate to follow a Z-shaped path in a compact 12-foot design with the same cooling equivalent as a 30-foot tank. Other advantages include Zumbach OD gauge control, a Conair Medline® puller and Conair ATC series colier set up with multiple spools on the coiling shaft. A floor-mounted ultrasonic loop sensor monitors the incoming product, automatically adjusting coil speed and traverse motion to wind product smoothly.
On Thursday, April 14, the line will shift production over to the dual-lumen "Double D" TPE catheter tubing. In addition to the MEDD extruder and Conair upstream and downstream equipment, the line will include a Zumbach ultrasonic wall-thickness gauge. This line will showcase components for efficient processing from start to finish, including the advantages of Zumbach gauges in monitoring and reporting changes in wall thickness on the control screen as the tubing cools. This also provides data used to regulate the puller speed and cooling tank vacuum to maintain critical tubing dimensions over a production run.
Davis-Standard representatives at the show will include Kevin Dipollino, Joe Wnuk, and Jason Baird.
For more information about the show, visit www.mdmwest.com.